There's nothing like celebrating a loved ones wedding in Summer. If you are stuck on your outfit choice, River Island have a delightful range of occasion wear. With a selection of elegant handbags and heeled shoes to go with your outfit, you'll be the best-dressed guest at the table.
To make things easy, we've rounded up our five favourite picks from River Island for floral summer wow-worthy wedding guest dresses.
On a hot day, you'll want to wear something comfortable and relaxed, yet still within the unwritten rules of wedding etiquette. A floral smock-style dress is a reliable bet if you're looking for a shorter length – think long puff sleeves and flattering frills around a V-neckline. The airy silhouette of this smock is simple yet charming and works equally well with small heels or flats. To rock the prairie trend, go for ditsy florals and a colour scheme that's pure summer meadow.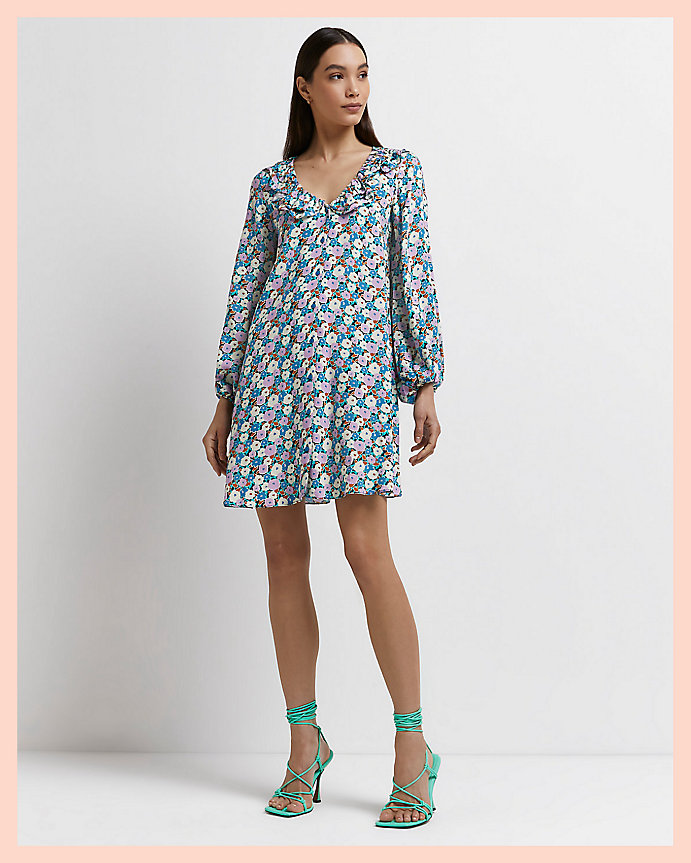 If you're looking for a little more coverage with the same understated charm, why not try on a cream floral midi dress? You won't want to wear white to a wedding (unless it happens to be your own), but cream is a whole other story. This style is a little more formal than the loose silhouette, but details like an asymmetrical hem and elbow-length sleeves give it heaps of personality. Channel some Bridgerton vibes – this will set the tone if the wedding is being held on a country estate. Now just to find the Viscount…
For real South of France chic, you can't beat a loose, peasant-style maxi dress with a Bardot neckline. Hello, off-the-shoulder elegance. We're thinking florals in a softened palette of beige or browns, and lots of pretty details like tiered hems and tie cuffs. Plus, a long, wide skirt gets maximum swishing points and is bound to make waves when you hit the dancefloor later. Pair with some chunky wedge sandals for a super comfortable outfit with real continental charm. 
With its simple broad straps and square neckline, a pink floral embroidered mini dress is pure bare-shouldered loveliness. Go for pastel blooming prints and intricate broderie detailing to make you feel pretty as a picture. It's like all your childhood princess dreams have come true because now you get to be one. We're also sure that eight-year-old you would love for you to get that pair of pink sling-back court shoes to go with it, too.
If you're lucky enough to get invited to a beach wedding, a floral-print maxi dress is a winner for ceremonies on the sands. We're thinking warm pink and yellow tones to go with the setting sun (how good will that look in the wedding photos?) combined with a retro, boho-chic print with big flowers. The simple cami style is breezy and loose-fitting, which is ideal if the reception is also being held on the beach.